By Heidi Arstad, from the Facebook blog "Min fete historie"
– If you were to look at your life from the perspective of one year in the future, would you be happy with where you are today? If you can confidently answer yes, you are one of the few who has everything mostly under control and is living happily and problem-free with yourself and your loved ones.
The rest of us already have our dreams and New Year's resolutions ready before we ring in 2015. Tired of all the Christmas food, we notice that our trousers feel tighter. Well, it's finally over, we think, while we look forward to a new year and new opportunities. The strange thing is that our dreams and resolutions remain largely unchanged from year to year. For me, a new and lighter body was on my wish list for many, many years.
Before I used to read about other people who had lost a lot of weight. I would daydream, and envision a whole new life for myself.
Now it seems almost unreal that I've actually managed to create the active life I wanted for myself. The secret is that I stopped trying different fixes and began to focus on my own health. Day by day I experienced the feeling of getting a little better, both physically and mentally, and it gave me the inspiration I needed to continue. But how did I manage to reach the point where my positive days outnumbered the negative ones? Motivation, repetition and focus are the key concepts I use when I now try to explain how I changed.
Four years ago I suffered from anxiety, and hardly dared to go to the store.
I had gradually ended up in a place where most things hurt, and since I had used food and sugar as to console myself for most of my life, I now had to pay for what I had forced my body to experience. I was checking out on my work life, I was checking out on my life. I was so strongly influenced by my depression that I was terrified of getting too close to the black hole and being swallowed. My own ugly self-image was firmly rooted, the result of my pedophile, alcoholic stepfather who affected both my childhood and adolescence. I was scared, and in the end it was my family and the possibility that I might not survive to see my own children grow up that gave me motivation. I was so scared that I finally was willing to do what I needed to do to change my habits.
I started with small things, but I did something every day.
It is said that it takes at least three weeks to change a bad habit, and that the longer you have had the old habit, the longer it takes to change it.
In the beginning, when I weighed 130 kg, walking around the neighborhood was great sport.But it was not long before I noticed the first improvements in my physical shape and psyche, and in the pain that gradually disappeared. My joy in life came back, and the satisfaction of being able to use my body, free of my previous limitations, has since been a pleasure! I never thought that losing 62 kg would be the result.
I made a binding agreement with my own health, and reaffirmed that agreement daily.
I stopped drinking diet soda, and gradually took control of my sugar consumption.
When you realize that sugar is 7 times more addictive than heroin, you realize that there are substantial health benefits of getting your sugar consumption under control.
– Today I tend to shout: "FOCUS ON THE TASK" when I whip people through the toughest parts of the spinning classes I teach as an instructor. Maybe it's just that I have experienced a lot of pain over time, which means that I now both tolerate and enjoy pushing my body? I'm not afraid of pain! The happiness hormone makes the most strenuous part of the workout a good experience, and I feel both strong and happy.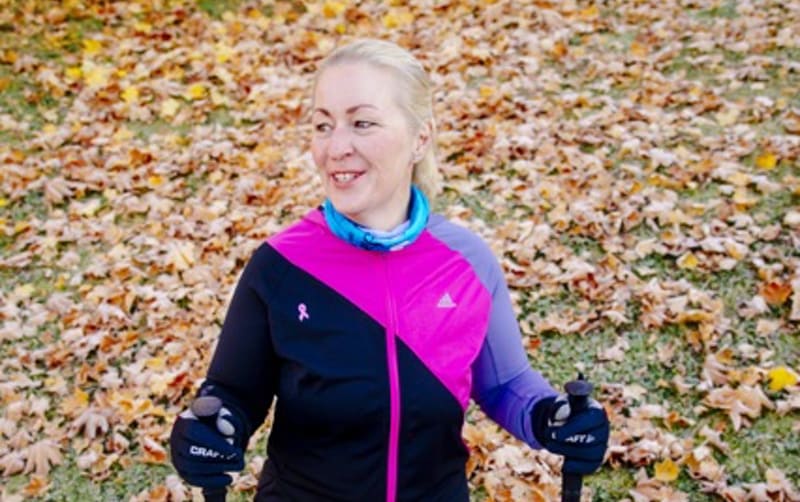 If you are going to be able to make a change, you have to dare to stick with it, and not wish yourself away.
Think to yourself that I like this, and right now this is the most important thing in life for me!
You are both allowed and required to focus on yourself when you have decided to change your unhealthy habits. I tend to say that there is no miracle man at the door to help you! There is no easy solution, you have to do the job yourself, and if you really want to improve your health, you have to get off the couch.
If you want to be fit, you have to train the body's most important muscle so that you feel that it has been worked hard – but that is not dangerous.
While you are the one who benefits the most from a new lifestyle, people around you will also notice your energy and presence in a new way, just because you can handle things.
Whatever you decide to do, start with an honest conversation with yourself!
About Heidi Arstad:
Heidi shares her experiences and writes about her journey from illness to a 62 kg lighter life on her FB blog "Min Fete Historie" ("My fat history"). Her hope is to provide people with both inspiration and the desire to exercise. You can read more about Heidi and follow her blog here. (In Norwegian)
Photo: Torstein Dalemark og Kristian Helgesen.